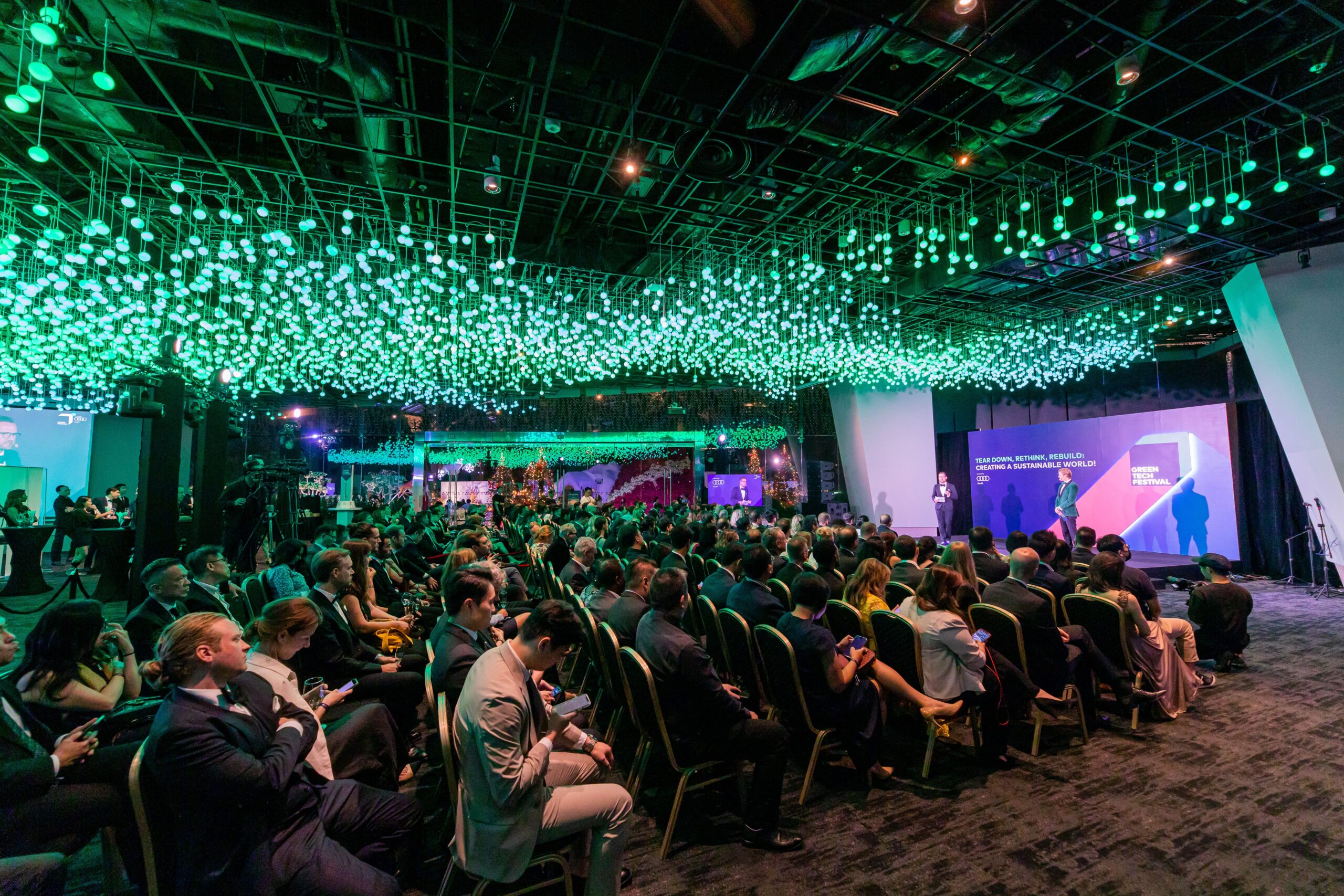 At the heart of GREENTECH FESTIVAL, the GREEN AWARDS celebrate the most innovative projects and minds. For the first time in Singapore we will roll out the green carpet to celebrate those who are making a significant difference to our future: our green leaders. Together we will highlight their innovative projects, sustainable companies and long-lasting ideas, with a focus on mobility, community and a special prize for an outstanding contribution to a greener world.
GREEN AWARDS WINNER 2023
Antoinette Taus
SPECIAL AWARD
Antoinette Taus a Filipino-American award-winning actor, singer, host, and Goodwill Ambassador for the United Nations Environment Programme (UNEP). Combining her renown with her longstanding dedication to people and the planet, she founded CORA (Communities Organized for Resource Allocation), a nonprofit organization that fosters sustainable development through impactful programs with volunteers, women, youth and local communities in order to help build a more just and resilient future for people and the planet. As a passionate advocate of the UN SDGs (Sustainable Development Goals), Antoinette leads programs centered on solutions focused on sustainability, climate action, women empowerment, inclusive resilience, and the circular economy, in order to unite more people in action towards creating a better future for all, without leaving anyone behind.
formo
FOOD & BEVERAGE
The dairy industry alone is responsible for 4% of global GHG emissions. Planetary boundaries are at the limit, and the demand for animal protein will double by 2050. Most metrics show producing proteins through microorganisms instead of animals as way better for the planet. This is where Formo jumps in. Instead of cows, microorganisms are teached to produce delicious, functional protein and to make the cheese humans love. By swapping livestock for microorganisms Formo wants to massively reduce the impact of protein consumption on our planet. Formo does this without challenging people to compromise on the foods and traditions they adore. This is a revolution of the way we produce food.
Godelmann
BUILDING
GDM.KLIMASTEIN, a Generation 4.0 ecological surfacing, combines everything Godelmann developed in 40 years about sustainability and climate change mitigation. The patented system provides answers to the most urgent questions in urban planning and has a degree of evaporation like a meadow. This stone infiltrates water on site while permanently filtering traffic-related pollutants from stormwater, thus protecting groundwater. It can store water, evaporate at the soil surface, and improve air quality by breaking down nitrogen oxides. It actively cools the overheated urban environment by evaporation.
OUR NOMINEES 2023
Explore our international GREEN AWARDS nominees, who have wowed the jury with their innovative and sustainable solutions by visiting Berlin page for Innovation, Start-up and Youngster categories. And USA page for Energy and Mobility.
GREEN AWARDS SINGAPORE WINNER 2022
Green Carbon by TUM
Category: Green Building
The Green Carbon Project is focused on the conversion of the greenhouse gas, CO2 to oleaginous algae biomass. The resulting algae triglycerides (oil) are used in a holistic chemo-enzymatic approach for conversion in biogenic resins and acrylonitrile based carbon fibers. The combination of carbon fibers and resins results in carbon negative carbon fiber composites, a new lightweight material, that can replace steel, aluminium and concrete. At the end of the life cycle it can be deposited in the ground to generate a permanent CO2 sink, as documented in the World climate report IPCC1.5.
Edible Garden City
Category: Community
Edible Garden City advocates the grow-your-own-food movement in cities around the world, starting with Singapore. Food gardens in urban areas are designed, built and maintained for restaurants, schools, hotels, residences and more. Since 2012, they have completed more than 260 food gardens in Singapore, in notable locations such as Marina Bay Sands. Grown products, such as herbs, flowers and vegetables are supplied to food outlets and families directly. Furthermore, farming workshops are designed and conducted for companies and schools, and farming curriculums are run for schools.
Boyan Slat
Category: Special Prize
CEO & Founder – The Ocean Cleanup The inventor and entrepreneur creates technologies to solve societal problems. His company "The Ocean Cleanup" is a foundation that develops and scales advanced systems to rid the world's oceans of plastic. Boyan's approach is a combination of closing the sources of plastic pollution and cleaning up what has already accumulated in the ocean.
JURY & VOTING PROCESS
Our application process has already been completed for 2023. Anyone who would like to participate for 2024 or present themselves as an exhibitor for 2024 is welcome to apply via the contact form at the bottom of the page.
Amanda
Jobbins Vodafone Business
Marketing and Communications Director
Dr. Andreas
Jentzsch Boston Consulting Group
Managing Director and Senior Partner
Dr. Andreas
Klesse EON Energy Infrastructure Solutions
Head of Operational Excellence
Prof. Anke
Weidenkaff Fraunhofer IWKS
Institute Director
Béatrice
Bracklo Amazon
Director Public Policy DACH
Berit
Erlach acatech – Deutsche Akademie der Technikwissenschaften e.V.
Scientific Officer
Bernhard
Kowatsch United Nations World Food Programme
Head of Innovation Accelerator
Christian
von den Brincken Ströer Media SE
Managing Director
Prof. Christopher
Hebling Fraunhofer Institut für Solare Energiesysteme ISE
Director Division Energy Technologies and Systems
Claire
Oelkers Reporter, Moderation, Actor
Dr. Cyril
Stephanos acatech - Deutsche Akademie der Technikwissenschaften
Head of Energy Systems of the Future
Dorothee
Ingwersen Plan Shop GmbH/ Plan International
Managing Director
Erin
Beilharz CleanTech Hub - Lufthansa Group
Managing Director
Florian
Kohler GMUND
Owner
Frederike
Kollmar HYAZINTH Partnerschaft von Rechtsanwälten mbB
Managing Associate
Dr. Ijad
Madisch ResearchGate
Co-Founder & CEO
Ingrid Adjoa
Yeboah IY.LEGAL
Founder & Lawyer
Dr. Jan-Claudio
Muñoz Alter Equity
Venture Partner
Jean-Damien
Bogner Julius Bär & Co. AG
Climate & Sustainability Risk Executive Director
Jörg
Mugke T3N
Managing Director
Dr. Johanna
Klewitz Audi AG
Head of Supply Chain Sustainability
Dr. Johanna
Puetz Boston Consulting Group
Partner
Katherina
Reiche Westenergie AG
CEO
Laurent
Guérin Business France
Trade Advisor
Lena
Engel JF & Company
Head of Sustainability
Malaika
Mihambo Athlete, Olypmic Champion
Dr. Manon
Littek Green Generation Fund
Founding Partner & Managing Director
Marco
Vollmar MSL Germany
Senior Advisor
Marie Eve
Schröder Meta
Group Director of Sales DACH
Marie
von den Benken Author, Influencer & Model
Markus
Weigold Drees & Sommer SE
Partner
Matthias
Wachter BDI - New Space Initiative
Managing Director
Max
Arnold FORMAT.berlin | Kreativagentur
Owner
Maxim
Streletzki Estrel Hotel
Owner
Michael
Bültmann HERE Germany
Managing Director
Natalia
Avelon Actress, Singer
Nicole
Schumacher Deutsche Bahn AG
Head of Public Relations / Content Marketing / Media
Nicoline
Woehrle Wala Heilmittel
Head of Communications
Nils
Müller trendone
Founder & Managing Director
Nina
Eichinger Moderation
Philipp
Bergeron Deutsches Zentrum für Luft- und Raumfahrt e.V. (DLR)
Board Representative for sustainability
Ralf
Bremer Google
Senior Manager Communications & Site Lead Google Berlin
Robert
Pölzer BUNTE
Chief Editor
Rüdiger
Recknagel AUDI Environmental Foundation
Managing Director
Sascha
Vollmer The BossHoss
Musician
Sebastian
Tripp PANDA Fördergesellschaft für Umwelt mbH / WWF Deutschland
Managing Director
Stefan
Hoppe Energy Berlin
Managing Director
Stefan
Franzke Berlin Partner for Business and Technology
Managing Director
Stefanie
Unger The Agency Berlin GmbH
Managing Director
Steffen
Erath Hansgrohe SE
Head of Innovation and Sustainability
Till F.
Esser General Manager & Director Northern Europe
NH Hotel Group
SCREENING & CHOOSING
The TOP6 are being selected with the help of our nomination committee.
VOTING
The TOP3 in each category will be chosen through an online vote. The GREEN AWARDS jury choses then the winners in a special meeting, all monitored by TÜV NORD.
AWARDS
The winners get awarded during the awards ceremony on November 23.